A Year Airbnb-ing My Room in Austin TX
A Year Airbnb-ing My Room in Austin TX
I bought my first Austin home last summer. It would be the first property I bought that I would actually live in and I was very excited. I consider myself somewhat of a frugal person and have managed to keep my rent payment under $700 a month since moving to Austin. Believe it or not, I managed to do this while still living close to downtown; in the more expensive central Austin neighborhoods Clarksville and Tarrytown. Was I living in a fancy brand new place all by myself? No, but I was living a very comfortable life and was walking distance from Lady Bird Lake and downtown, and that's all that mattered to me!

Since moving to Austin after college in 2012, I always saw the benefit of buying a house and having roommates help pay my mortgage payment. I finally had the opportunity to do so in 2017. I bought a small, 3 bedroom, 1 bath home in East Austin (zip code 78702). With smaller square footage that was just under 900 sqft, I was able to pay for the renovations and still live in a great area. One of my goals for the next 12 months was to see if I could still keep my mortgage payment close to that $700 number from my renting days. I would do this through something called "house hacking." Since moving into my home in August of 2017, I can say it was possible! I've shown you how I did this in the chart below.
$22,292 (Year in mortgage payments) -$14,746 (Rental income combined) ------------- $7,546 (Total rent for the year)
$7,546/12 months=
$629 a month
<<average monthly mortgage payment including taxes & excluding utilities
Short Term Roommates: Total Earnings this past year: $4,802
As you can see from the chart above, I only had roommates for five and a half months out of the year. Due to the size of my house and me starting to get old and cranky and not always wanting roommates around, I decided that having short-term roommates would be ideal for me and my home. I wrote an article about finding quality roommates and tenants if you're interested. My 2 spare bedrooms are pretty small, and I decided I'd get the most rent money if I furnished the rooms and used one as an Airbnb room and one as a guest room/short-term roommate room. And I did! People paid $850 a month to live in my spare room if it were a long-term lease I have a feeling it would be less. After a year of living with on and off roommates, Airbnb guests (who I rarely see) and throw in a boyfriend and a cat, I've decided to retire this spare "roommate bedroom," and after August it will be my guest/meditation/storage/escape room. Come on over! But you can't live with me anymore...
Airbnb Guests Total Earnings this past year: $9,944
Initially, I tried putting both rooms on Airbnb but quickly realized that only one of the places was getting booked. The room with its own entrance! My guests and I LOVE it. They barely see me, I hardly see them. We run into each other heading to the bathroom or kitchen for a glass of water. Don't get me wrong, I've met amazing Airbnb guests, and we've had some meaningful conversations--I've even reconnected with a guest who lives in Mexico City, and he gave my friend and I a tour of the City! But, sometimes it's nice not to have to be a people person in your own space, so privacy is vital. I will continue to Airbnb, the spare room with its private entrance. It's relatively nonintrusive, and I'll still lower my mortgage payment from $22K a year to around $11K a year.
The chart below shows when my room was rented out the most. The months that I had a roommate, I limited Airbnb guests by blocking off the calendar because I didn't want too many people living in my house. I realized in the end that I could probably make a significant amount of money only doing Airbnb and also have a better quality of life.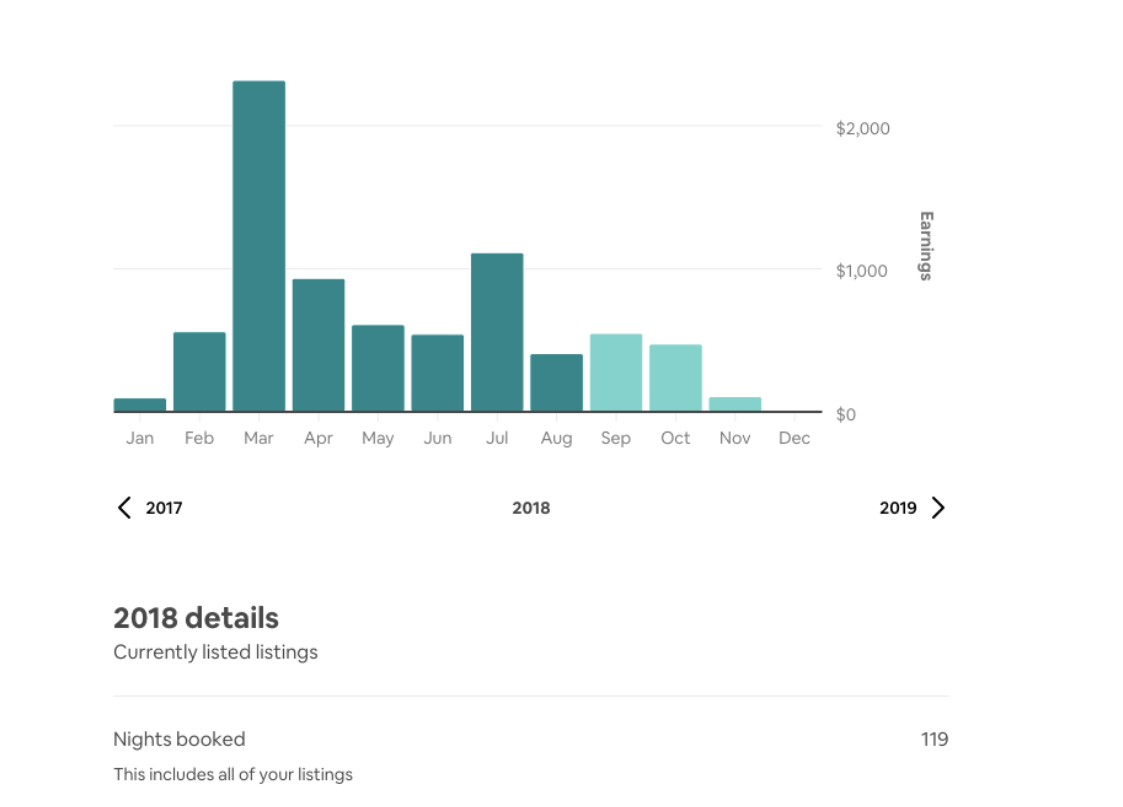 There are many different ways to cut down your mortgage payment! I can help you figure out what's right for you. I recently had a client buy a beautifully renovated home in the Austin Neighborhood of University Hills. The sales price was $399K, and his mortgage is around $2,400 a month. The house has an open concept and spacious at 1,800 square feet. It has 4 bedrooms and 3 bathrooms. The 2 large rooms have their own bathrooms are on opposite ends of the house (yay privacy). His home is the perfect place to "house-hack." He plans to furnish at least a couple of the rooms, and since he regularly travels for work, he has no issues with having 3 roommates and taking the smaller room for himself. If you have any questions about house hacking, buying a house or real estate in general feel free to reach out.